Your cart is currently empty
Imuno™ 1ml vial (spray / nebulise) - conceived by Dr Marco Ruggiero
Available soon.
IMUNO™ DOSAGE RECOMMENDATIONS
Note: Chondroitin Sulfate has a blood thinning effect similar to heparin, so when taking larger doses, people on anticoagulant drugs, are advised to be under medical supervision.
Each Vial Contains: 1ml, which equals 20 x 0.05ml servings.
Adult Serving Size: 1 drop daily (0.05ml)
SUPPLEMENT FACTS:
Active Ingredients: Chondroitin sulfate, phosphatidylcholine, cholecalciferol. (Other Ingredients: water, salt.)
Transport: room temperature, protected from light.
Store: refrigerated or cool and dark.
Once opened: store refrigerated (< 8 °C) and closed. If the oral adapter used (membrane wide open) then use contents within 60 days. If a sterile needled syringe is used (membrane intact, contents sterile) then use contents within 24 weeks.
ADMINISTRATION
Shake well to homogenize the emulsion (product separation is typical and no quality defect).
imuno™ - Oral Administering
imuno™ is a sterile thick liquid of indistinct and pleasant taste and may be used as an oral dietary supplement
Squirt required dose into mouth.
Hold in mouth for 30 to 60 seconds and then swallow.
imuno™ is best taken on an empty stomach (2 hours after or 30 minutes before food.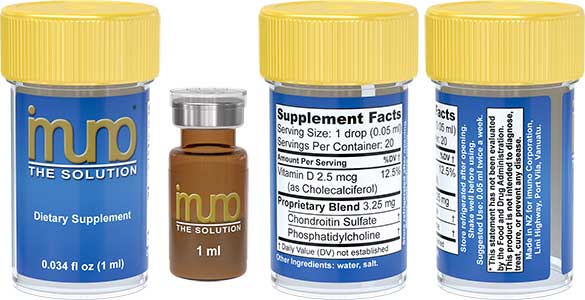 Currently there are no reviews for this product. Share your opinion with others, be the first to write a review.